Learn how to design your home office following these practical tips…
Not all of us are lucky enough to have a separate office at home. I think about my friends and their creative use of space! They have each created a temporary workplace in a variety of places: the living room, dining table, on a kitchen island and even on a dressing table in a bedroom.
As 'temporary' turned into a long ten months, our unsuitable and uncomfortable working conditions have understandably made us physically tired, inefficient and emotionally exhausted. But with well thought out home office interior design you can greatly improve your day and your productivity.
The goal of this post is to give you new work from home ideas, broken into four practical steps, on how you can improve your home workspace. Some of these steps you'll be able to start right away!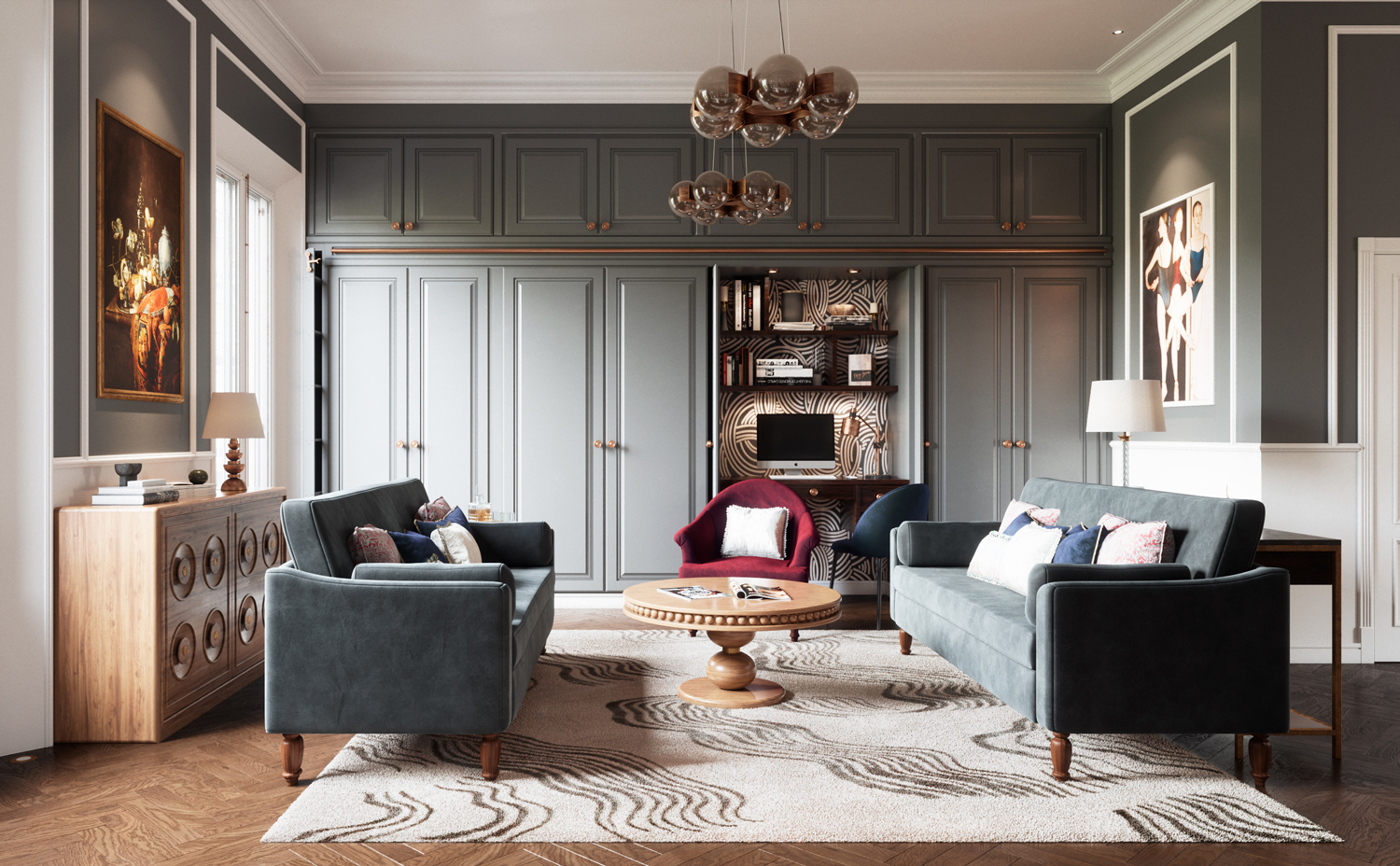 Step 1: Identify your needs
Take a piece of paper and write down all items that you ideally need for comfortable working.
After you made your list, group items that could be stored together. This will help to understand the size of the required furniture. Also, think what items should be hidden or not, that will define the type of storage furniture that you need (books – open bookshelves/scanner and printer – bigger storage with doors).
Now when you have your requirements list, look at your current workplace and evaluate what would you like to keep and continue using? What should be substituted or removed? And is there anything new you need to get?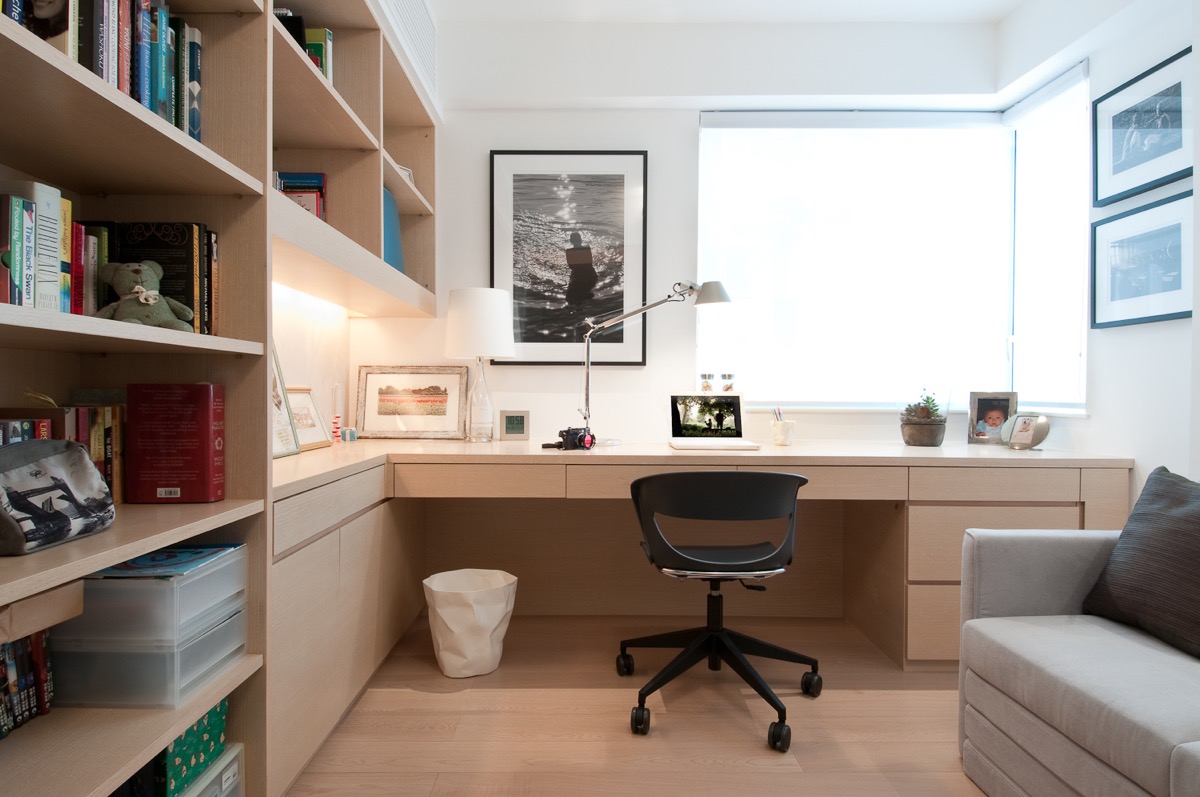 Step 2: Find an ideal place for your desk
The most important item to be correctly placed is your desk. It is not a question of where you sit, it is a question of what are you looking at. For example, if you are staring at a wall for eight hours eventually you will feel disconnected from life and claustrophobic. The view is the key that dramatically increases the quality of your work experience.
Ideally, you need to have a view with depth and space in front of you. There are several recommended positions for a desk:
Other ideas for desk placement…
If you cannot place your desk in an "ideal" location. Here are several ideas what else could be done:
Place your desk behind a sofa facing the living room.
If you have several people working in a room and you cannot or don't want to put several desks, think of a writing bureau. That is discrete and can be easily transformed into a nice design storage.
Another area where desk can be placed is under a staircase, on a landing, or in a recess on one side of a chimney breast.
If there is not other way and you are facing a wall or a corner, then use a mirror to create the feeling of window in front of you. Just place it a bit on a side or above, not to look at it directly.
Step 3: Choose furniture and decor
When you know what you need and where you will place it, the question is how do we choose items, because there are so many options on a market?
If you have a separate room, then it is easier to design it. However, most probably you will need to integrate a workplace in an existing space. Here are several tips on how to do it:
First, take a picture of the room where you will place the workstation and identify key design elements that you have there, like colours, style and textures.
Then go on Pinterest and find an inspirational image for your future workplace.
Now compare two images:
If you chose an inspirational image that is in the same style as your room, then just buy items that look similar to the ones on the Pinterest image you like.
If your chose style is different from the existing one, then you need to integrate one in another. In this case, use the existing design as a base, and bring several accent items from the "new" style. To make the interior look homogeneous, each item should match at least to other two in colour, or style, or shape, or texture, or ornament.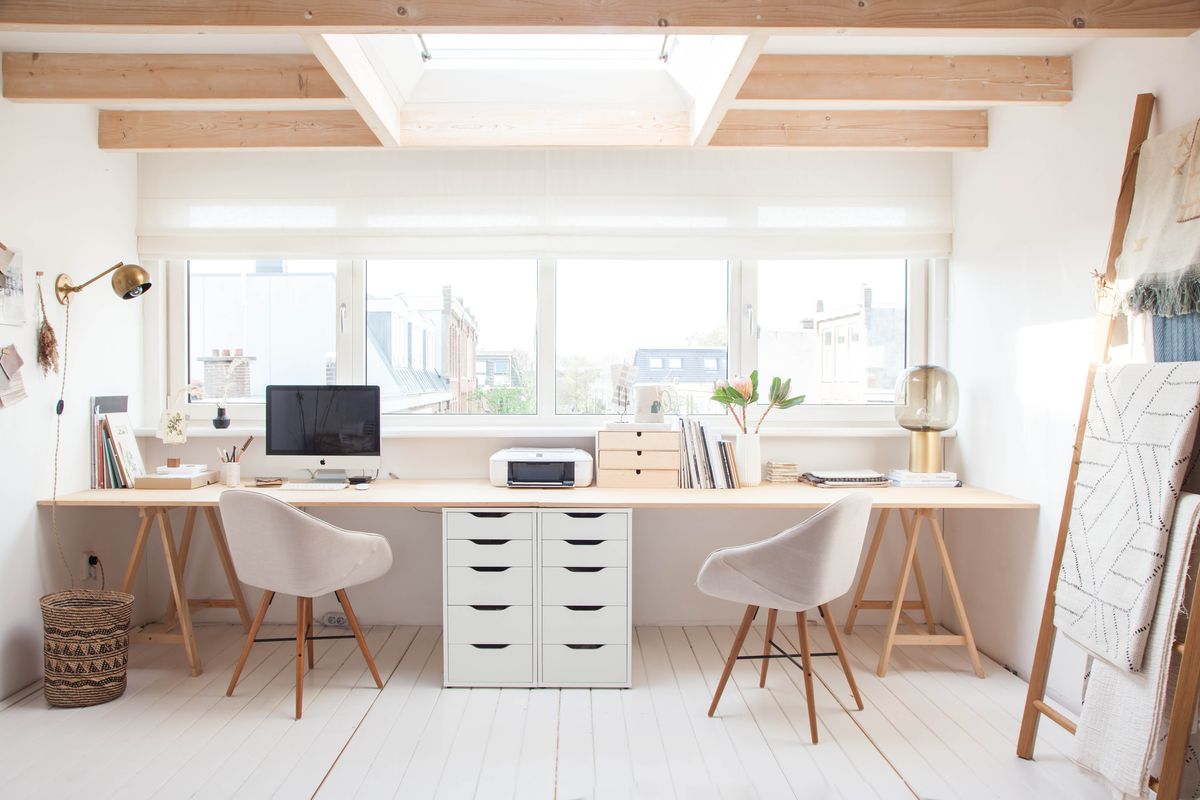 Step 4: Make your workplace comfortable and energizing
Most importantly, we need to consider our physical comfort and health.
For the health of your eyes

carefully consider

task lighting.

It's

essential you have a bright task light! Use a table lamp that has direction light, and place it opposite to your writing hand. Choose warm light (2700K- 3000k), avoid cold or blue light.

A comfortable chair is vital for your physical health. Buy one with a back and handles,

office armchairs

and

mesh office chairs

are suitable for working on all day and highly recommended!

It is also great if you are able to move around and change scene, for instance, move to the sofa or armchair when you can.

Our position when sitting is so important. We need to sit upright, so we don't block our necks and stop blood flow to the head and brain. So place your screen high enough, a monitor stand can help with this.